Are you planning to buy an electric scooter? Are you confused about what to choose between an electric scooter and a petrol scooter? Are you seeking an affordable scooter that meets your needs and budget? Are you concerned about the environmental impact of vehicles these days?
The increasing popularity of electric scooters and ever-going petrol scooters can make you confused to choose the right one.
Are Electric Scooters Better Than Petrol Scooters?
If we talk about the two-wheeler market in India, you can see the most expansive phase with numerous options available. Whether you are looking to upgrade your existing two-wheeler or looking for your first scooter, you will probably want to own the best of all.
Among electric and petrol options, should you go for the conventional or electric two-wheeler? We understand it is the biggest question for you.
If we go a few years ago, there were a lesser number of electric scooters on the road. But now due to the increasing fuel costs and other reasons, electric two-wheelers are gaining popularity. More and more people are giving thought to purchasing electric two-wheeler.
Though petrol two-wheelers are still dominating the market, as per the latest statistics, the demand for electric two-wheelers will sure be increased in the near future.
Here, in this blog, you will get an answer about what to buy – an Electric or a Petrol Scooter? The comparison between both two-wheeler options will help you to understand the difference in a much better way.
Read on to make an informed decision.
What Are Electric Scooters?
Electric Scooters, another name EVs (Electric Vehicles), run on rechargeable batteries as fuel. These scooters can operate fully or partially with the use of electricity. Additionally, lithium-ion batteries are used to power EVs. They work effectively in extending energy retention and battery capacity.
Moreover, what makes these two-wheelers preferable is the reduction of carbon emissions and cost-effectiveness. In terms of running costs, they are more affordable than fuel-powered scooters.
Pros Of Electric Scooters
Most economical alternative to petrol
Environmentally friendly
Perfect for short journeys
Affordable cost of maintenance
Lower running cost
Low or no noise
Zero complex mechanisms
Convenient charging at home
Cons Of Electric Scooters
Limited charging facilities
Dependency on electricity
Limited repair and service stations
Higher upfront cost
Slower than a normal scooter
Difficulty in finding spare parts
Less Battery Life
EVs are expensive
What Are Petrol Scooters?
Petrol scooters have been a popular mode of transportation for decades. These two-wheeled vehicles run on petrol (gasoline). They offer reliable performance, greater range, and faster acceleration.
These scooters are the best option for longer riding distances due to the easy access to petrol pumps. Petrol-powered scooters are in higher demand than that of electric scooters due to dependability and durability.
Pros Of Petrol Scooters
Greater range
Best for long-distance travel
Lots of petrol scooter models
Easy maintenance
No need to frequent refueling
Higher top speeds
Easy access to petrol stations
Easy availability of spare parts and mechanics
Cons Of Petrol Scooters
High fuel price
Cause air pollution
Higher operating costs
Noisier operation
Complex maintenance and repairs
Comparison Of Electric Scooters & Petrol Scooters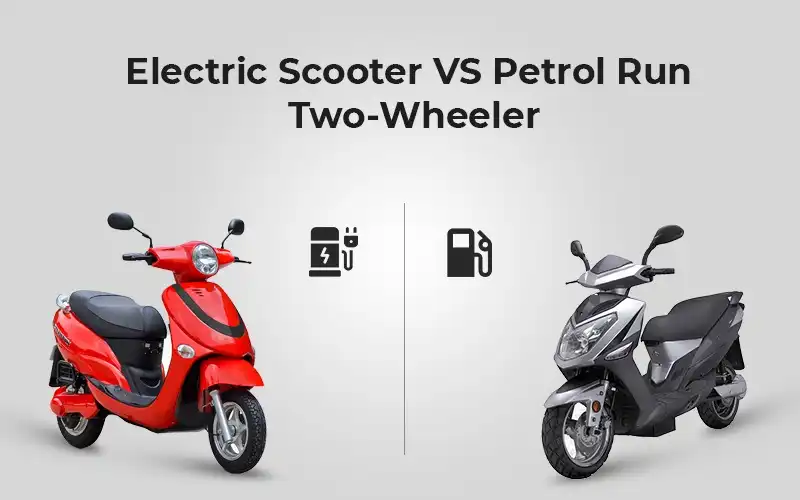 As electric two-wheelers have started gaining attention from buyers, it does not mean that the selling of petrol-powered scooters has reduced. Electric two-wheelers still need some time to match the range, durability, and reliability of petrol two-wheelers.
Let's have a look at some important factors that should be kept in mind when thinking of the right choice – Electric scooters vs Petrol scooters.
Price
Typically, electric scooters are an expensive two-wheeler option than petrol-powered scooters. But, due to subsidies, this cost has been reduced to some extent. Since the technology behind electric two-wheelers is new, so they cost a little more than petrol scooters.
If you compare the longevity needs of a vehicle, a petrol scooter goes a long while an e-scooter has less battery less of approx. 4 years. Still, if you think about the long-run cost of owning a two-wheeler, EVs will be more budget-friendly.
Fuel Cost
The fuel cost is one of the biggest aspects when we compare electric scooters and petrol scooters. The rising petrol prices have added a high running cost to owning a petrol vehicle.
Though both petrol and e-scooters offer the same mileage, the price of 1-liter petrol is almost 5 times higher than paying for an electric recharge. This is what every two-wheeler seeker must be aware of for making the right purchase.
The price of fuel is one of the key differences between electric and petrol scooters.
Technology
If we compare the technology factor between electric and petrol two-wheelers, electric scooters will win this race. As per the research, it is found that consumers are expecting more updated features for their new two-wheelers. Feature like over-the-Air updates make e-scooters more technologically sound than petrol-powered scooters.
Other features such as a phone connectivity option, onboard navigation, onboard document storage, etc. give e-scooters easy tweaks to the performance. Conventional petrol scooters cannot match the sheer levels that e-scooters have.
Maintenance & Running Cost
Here, we are going to compare two aspects. When it comes to the maintenance cost of these two-wheeler options, e-scooters have a lower cost than the latter. The electric scooter has fewer moving parts and also, they just require a regular cleaning of a battery.
Additionally, the cost of charging an e-scooter is less than the expense of the fuel required for a petrol scooter. Thus, we can say that e-scooters have lower running costs than petrol scooters.
In terms of long-term savings, an e-scooter is a cost-effective two-wheeler option for many riders.
Performance
When it comes to the performance difference between e-scooters and petrol scooters, they both excel on their own terms. Due to higher top speeds and faster acceleration, petrol scooters are the best for riders looking for power and performance.
On the other hand, electric scooters win this race in terms of smooth and seamless power delivery throughout the speed range. Also, they offer quiet operation, allowing riders to enjoy a peaceful ride.
The choice between electric and petrol scooters completely depends on the rider's preferences. If he/she wants to enjoy high-speed rides, go for petrol scooters. While for instantaneous and smooth acceleration. Electric two-wheelers are the best.
Refueling and Recharging
One of the main drawbacks of electric two-wheelers is the charging time of a battery. On the other hand, the easy availability of petrol (no doubt it is more expensive than a battery) has proven a great convenient option for scooter owners. The quick refueling of petrol scooters allows riders to get back on the road in no time.
In contrast, electric two-wheelers offer the convenience of recharging the battery at home or you can use public charging stations (very few of them are available). Whether electric or petrol scooter, you need to consider your daily riding requirements before deciding the one.
Range and Usability
In terms of operational range, petrol scooters win. Though electric scooters promise a long-range, in the real world, they cannot match the available range of petrol-powered scooters. Due to the longer range, petrol scooters are ideal for long rides without any need to frequent refueling.
With a petrol scooter, you can top up the tank at any time and keep going for your long journey. Due to this, no matter how expensive petrol is, these scooters are more reliable with no range anxiety.
On the other hand, electric two-wheelers have a limited range due to battery capacity. They are ideal for shorter rides. Also, the lack of charging infrastructure cannot match the usability that petrol scooters give you.
Environment Friendliness
When it comes to environmental friendliness, electric scooters have a major advantage over petrol scooters. These scooters run on electricity and emit zero carbon dioxide, which makes them a clean and environmentally friendly mode of transportation.
Also, you do not need a PUC certificate for electric vehicles. By choosing an electric scooter, you contribute to a cleaner and greener environment.
Which Two-wheeler Option To Choose?
The decision of whether to go for an electric scooter or a petrol scooter completely depends on your specific needs, priorities, and situations.
If you ride a longer distance on a regular basis and cannot wait to recharge your scooter, buying a petrol scooter makes sense. If you live in a city with easy-to-access charging points at home/office and cover shorter distances daily, then you should go for an electric scooter.
On the other side, petrol scooters are more durable and dependable for decades. You can take them anywhere without any worry about frequent refueling/recharging. All you have to do is just fill the tank and go.
If you are looking for a cost-effective scooter option in the long run, electric scooters are the best. To get a quieter and more peaceful riding experience, consider an electric scooter.
Conclusion
So, this comparison of electric and petrol scooters will help you a lot to select the right option for you. Though petrol scooters have marked their special place in India's automotive industry, electric scooter is the future of this industry with the increasing technology updates.
Indeed, electric scooters are still not popular, they might win the hearts of riders by overcoming the charging stations and range challenges.
Simply evaluate these given aspects and make an informed decision that fits your needs and priorities the best.